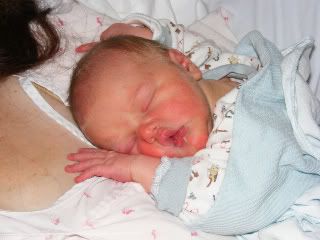 Announcing the arrival of Ezra Alan Dole!
Ezra was born on Sunday, May 11, Mother's Day. He weighed 8lb 14oz, and was 20 1/4 inches long. My water broke early Saturday morning. After beginning to get the tub out and filled, we called our midwife, Terry, and my dear friend, Julianne, who had agreed to come and be our "doula". We called Grammie, because we had asked her to be here for the birth. And then we began to wait.
We fully expected to have a baby by 10 or 11 in the morning, from my previous births where my water had broken, but I was not actively laboring. And we waited, and waited... I nursed Josiah off and on throughout the day, hoping that that would get labor going; and we waited. We visited, we warmed up the water in the birthing pool when it would get too cool, and we waited. At one point, Mike realized that he had left the water on *far* too long, and when I got upstairs, the birthing pool was full to overflowing, with water beginning to run under the bed! Thankfully, we had a lot of towels on the floor in preparation for following the birth, and so, we didn't have too big of a mess. I was just thankful there wasn't water coming down the stairs when I got to the bottom of them! And we continued to wait. In the afternoon, Grammie finally went home. The girls went with her.
Evening came and we played a couple of rousing games of Apples to Apples. We were up pretty late, but we had fun! At about 12:30, we finally went to bed. I woke up about 3am, and thought I felt like maybe things were going to get going ~ finally! And still we waited. Mike fixed scambled eggs and toast, but I couldn't eat very much, I just didn't feel real well. My emotions were beginning to get the better of me. The only other birth that my membranes spontaneously ruptured before labor began was Tucker's. I had been fine the day before, but now we were onto Sunday, and Tucker was born on a Sunday ~ and for some reason, labor wasn't happening. I felt like God was asking, "Do you trust me?" My answer was, "Yes." However, Tucker's birth weighed on my mind.
Terry decided we should try herbs for a couple of hours, and if that didn't get labor going, it wasn't going to. So, for the next 2 hours, every 15 minutes, I received a lovely little cocktail of labor herbs. And we waited. When the herbs didn't work, we had to decide whether or not to transport to the hospital. We didn't have any signs of infection, baby's heart rate was good; but if we waited until any of that changed, we would be left without options when we did get to the hospital. Mike decided to transport. He called Dr. Stamm, and asked if he would make arrangements for us at Deaconess.
As we left for the hospital, I was extremely emotional. I knew that God was allowing all of this for a reason, but not *knowing* the reason left me an emotional wreck. Was there something wrong with the baby? When we got into Spokane, Mike called the hospital, and they told him they were expecting us. When we got to Deaconess, Dr. Stamm was there at the nurses station, awaiting our arrival.
Once we were settled into our room, Dr. Stamm came in and informed us that because of the amount of time since my water had ruptured, that I was considered high risk. They would run a couple of courses of antibiotics, just to be on the safe side, and then they would start a pitocin drip. So, once again we waited.
Julianne had called Brian, and told him that we were heading to the hospital, and unbeknownst to her, he called some folks at their church, and headed out for Spokane as well. Their church had planned a special time during their service for Brian, as his birthday had been that week, and yet, they very generously encouraged him to go to Spokane and be there to support us. What a blessing that was for us! We were also surprised (and thankful!) to see our own dear pastor walk in through the door not long after we arrived at the hospital. What a blessing to know and fellowship with not only one, but two congregations willing to give up their pastor on a Sunday morning!
After they started the pitocin, we began to contemplate an epidural. I have never been the least bit interested in an epidural ~ needles, spines...I'm just too squimish for that! However, I have had pitocin births before, and knowing that I wouldn't be able to do much in the way of naturally relieving the pain, I decided this time it *might* be an option. We thoroughly questioned one of our dr.s, and then we thoroughly questioned our labor nurse. Then I consulted with Mike, Terry, and Julianne. In the end, we decided to go for the epidural. What a strange experience! To be having strong contractions, and not be feeling them! I did have some problems with the lower right part of my belly not staying numb, but other than that, it was not a bad experience.
Finally, at about 6 or 6:30 in the evening, I was ready to push! Soon I would be holding my new son, and I was ready! And so, with a room full of drs and nurses (not the lovely quiet homebirth I was planning!), I began to push. And push...and push. For at least 2 1/2 hours, in pretty much ever imaginable position, I pushed. But our son would not come down. He was stuck at 0 station ~ and I was exhausted. We began to talk about different options. Forceps delivery, cesarean. We pretty much rejected forceps out of hand. We figured if we didn't know why he wasn't coming down, forceps could be dangerous. As scary as a c-section was to me, forceps were scarier. The drs said they would give me another 15-30 minutes of laboring before we *had* to make a decision. I felt like if I had to labor another 15 minutes, I would die. We decided to go ahead with a c-section. And I cried. I was scared, but I knew we had to do it to get our son safely into our arms.
They got Mike some scrubs ~ he looked adorable! And they took me to the OR. They "topped off" the epidural, and when everything was ready, they began to cut. And, "OW, OW, OW!!!"
"You can feel that?" "YES!" The surgeon wanted to go ahead with the epidural (letting me get numb), but the anethesiologist wasn't comfortable with it, so they knocked me clear out. Which meant Mike couldn't be there when the baby was delivered. They had told him that they would deliver the baby, and then it would be just 10 or 15 minutes before I would be out. After half an hour, Mike left Julianne with Ezra in the nursery, and came back to the operating room. I had begun hemorraging, and they really had to work to get my uterus to work like it was supposed to. They did special stitches in it, and all in all, I was in surgery for an hour after they delivered Ezra. We are thankful that although I lost about double the amount of blood they would expect, they did not have to give me a transfusion.
So, at 9:34 pm on Sunday evening, our sweet little boy entered into the world. We praise God for the evidences of His Hand all through this labor and delivery. The dr. said that it was "fortuitous" that I had to have general anethesia for surgery. We know that it was providential.
I am in for a long recovery because of all the different factors involved in this birth, but I am thankful to have a healthy baby to hold while recovering. Mike is thankful I am around *to* recover. That may sound extreme, but having to have a surgical delivery, and then for things to take so much longer than what he had been told ~ he was truely scared of losing me.
Here are a few pictures of our newest darling.