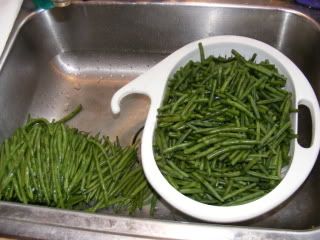 One of the things a godly wife does, is to provide food for her family. She may garden, forage, hunt, butcher animals she's raised, or go to a grocery store. I believe that also includes putting up stores of food. We have a pantry that is built into our home, and I have added to it by re-purposing bookshelves to use for food storage.
I enjoy canning. I love walking into my pantry and seeing the shelves lined with food ~ cans that have been bought at a good price, and jars that my labor has provided.
This year, with Ezra being born in May by c-section, we didn't have a garden, and in August, when it was time to be canning, I either didn't have time to stop and buy vegetables to can, or there wasn't money to do so. However, we have been getting food from some friends. They are set up as a receiver in a second harvest kind of deal. We are blessed to be one of the families they call when the food comes. It truely has been a blessing! One week, there was an abundance of green beans ~ I was able to put up 25 quarts of beans for free.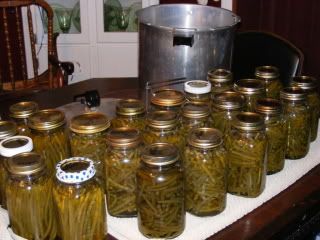 The following week we received a case of baby carrots ~ into jars those went, and I have 33 pints of canned carrots in my pantry ~ for nothing more than my labor. I have also been able to make jam from some of the fruit we have received. I am so thankful that God has provided food for our family through the winter! It brings a feeling of comfort and security ~ we live 10 miles from the closest grocery store, and in the winter, we can't always get out, so knowing that there is food in the freezer (or will be soon, with hunting season!), and food in the pantry makes me less anxious about snow and/or ice. What a blessing to know that if things are tight, we will still eat fairly well.
I still have some stocking up to do, and do try to add to my pantry stock a little each paycheck. That way, it never takes a large sum of money to stock up. With now 5 hunters in the family, there should be several deer in our freezer within the month, and we're going halves with my folks on a pig ~ which is good, because Levi eats a *lot* of bacon!