Dear Ones~
I sit in awe that another year has come and gone ~ already! It doesn't seem possible that it is once again time to celebrate the birth of our dear Lord. Where does the time go? Busy as always, we have had an eventful year. Here's everyone's update.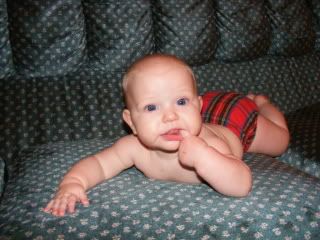 "For unto us a child is born…" On Mother's Day, our newest blessing made his arrival. Ezra Alan was born at Deaconess Medical Center by c-section on May 11, at 9:30pm, weighing 8lb 14oz. We did not plan on a hospital birth, but are so thankful that they are available when we need them! Ezra was not positioned properly, and after over 2 hours of pushing, it was decided that a c-sec. was necessary. We had great Drs and nurses, and were very impressed with the care at Deaconess. Ezra is now 7 months old, and a joy to us! He already has 2 teeth, and is very social.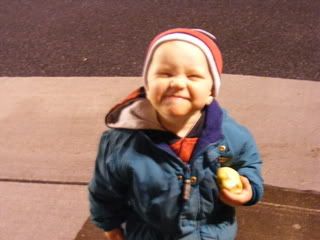 Josiah is now 2, and a football player. He is very much boy ~ loving anything to do with sports and guns. He is a pretty constant shadow to Levi, wanting to do just about anything his big brother is doing. It is very sweet to watch him follow Levi down to the barn to feed the horses. He is talking more and more all the time and even got 15 seconds of fame this football season ~ getting onto Friday Night Sports Extra. Si has a following of groupies everywhere he goes, being a favorite of the highschoolers and coaches alike.
Bob is now 6. This year she got to attend the play Annie with some friends ~ which she greatly enjoyed. In August, she participated in the Missoula Children's Theatre for the first time. She has anxiously awaited this for two years. She was a raccoon in their production of Little Red Riding Hood. In October, Both Laura and Kathleen attended the Mother/Daughter Tea with Mama, and had a lovely time. Now, Laura is taking gymnastics and is grea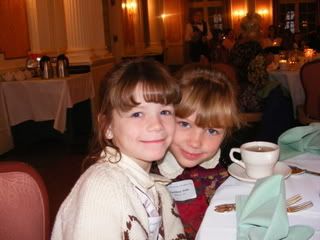 tly enjoying herself. She is very energetic and pretty athletic, so gymnastics is a good match for her. Bob's other big venture this fall is mouse trapping. She and her Daddy have a competition going with Will to see who can catch the most mice. Every morning, she runs her "trap line" to see if there are any victims ~ if there aren't; it's all Daddy's fault. :)
Kathleen is an exuberant 8. She took piano lessons this year, and once she decides she will practice, may get to take them again someday. :) She too, went to the production of Annie ~ and along with Laura was *amazed* that I knew what song they sing! (The sun will come out, tomorrow…) Kathleen was a raccoon as well in Little Red Riding Hood, and thoroughly enjoyed herself. In October we attended the Mother/Daughter Tea and Kathleen had a grand time afterward, when the little girls were invited up to the piano for a hymn sing. She loves to sing! Kathleen is currently in Ballet/Tap lessons, and so spends a good deal of time pirouetting around the house.
Logan is 12 this year. He had his first big game hunting season, and alth
ough he did get a shot off, he didn't bag anything. :( Let's see. Logan's year consisted of a cut hand, which needed 11 stitches ~ to the tune of over $700! (Let me just suggest if you need stitches, to avoid the ER if at all possible!) In July, he attended our church's camp in Montana, and he came home with some profound questions and thoughts in his head ~ we were very pleased with how he responded to the Spirit's prompting. In August, he too participated in MCT. Logan was the Little Loveable Wolf, who, despite what you may have heard, was the *real* villain ~ not his big brother, the Big Bad Wolf! Logan did a GREAT job, and the directors encouraged us to try to find more opportunities for him to be able to act as he really has a talent for it. Once school started, Logan played his first year of football. He is on the small side, but he did a great job, always doing just what his coaches wanted.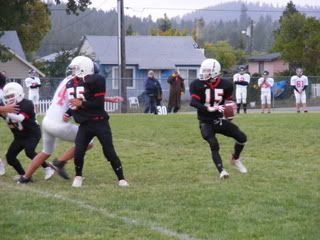 At 14, Garth is becoming quite the athlete. This year, there was a Little League team in Plummer, so he was able to play baseball. He pitched and did quite well. Then, in June, he broke his foot playing a pick-up game of basketball. He then worked in the firework stand and proved himself to be a salesman as well (must be in the blood). In football, he QB'd the middle school team, leading them to an undefeated season. He shot a nice little doe, adding food to the freezer, and in a moment of understated heroism, put out a fire in the dining room that Si managed to start (burning up a pair of overalls waiting repair and charring the table).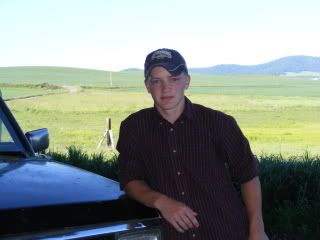 Levi is 16 and a licensed driver! He decided this spring that he would do track, and so, he ran the 200M, and on the relay team and did the triple and long jump. He did alright, considering he had never done any of those things before. Then began BFS (Bigger, Faster, Stronger), a weight training program, and both Levi and Will, and to a lesser degree Garth and Logan participated in it. We have seen a tremendous difference in their sports since BFS began. When Ezra was born, both Levi and Will really stepped up to the plate and took care of Josiah the week we were in the hospital, while the rest of the clan stayed with Pak and Grammie. In July, Levi went to the big Creation festival at the Gorge in George. Its 4 days of Christian concerts and "lectures" in the heat of central Washington. He had a great time. In August football began and Levi had a great year. He is a running back and he ended up being one of the leading rushers in the state with 1426 yards, and scoring 90 points for his team. He has worked a lot of odd jobs, but is now also working at the local hardware store.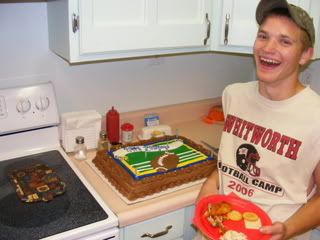 Will is now officially an adult! Yes, he turned 18 this year. How did *that* happen?!? :) In the spring, he coached Garth's baseball team, and did a really good job. I was a little concerned as he can be a *little* on the bossy side at home, (1st born tendency????) but he really did a good job of working with the kids ~ even Garth. :) Will also had a great football season, playing guard and middle linebacker. He was one of the leading tacklers in the state, making 142 tackles for the season. BFS really benefited Will, not only in strength, but also in speed. Both Will and Levi made All League this year. After turning 18, Will had the opportunity to apply for a part-time job with the local Post Office. He was hired, and in a year will have the opportunity to test for a clerk position. We were really excited by this opportunity for him. Will is an outstanding young man, who is well thought of in the community and we are really proud of him.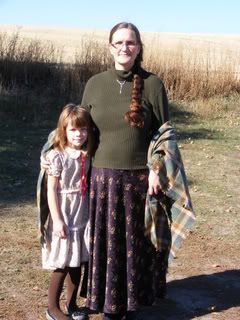 My year has been a blessed one! Full of traveling to sporting events ~ I try to get to every game, but I did fail to get to a few of the track meets. May was my big month, with the birth of Ezra. Can I just say that a c-sec is a terrible way to have a baby? I am sooo thankful for the Drs that have the skills to deliver babies surgically, but it sure is a difficult way to get a baby into this world! I was not awake for Ezra's birth because of difficulties with the epidural, but we know that was God's hand of protection, because I hemorrhaged, and was in surgery for an hour after they delivered him. I *would not* have wanted to be conscious for that! Because of our difficult birth, I spent most of the summer just trying to recover and get my strength and energy back. I think that I am finally back to my normal state of tiredness ~ but what a blessed tiredness it is ~ it means that my home is full of children to love and nurture, and that my arms have a baby to hold.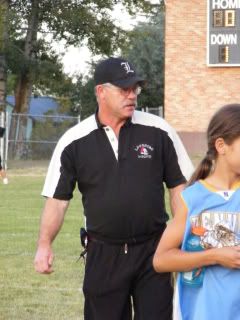 Mike is now *really* old! :) LOL Just teasing! But, he's not getting any younger! For the 1st time in 14 years, I can't say that he's still working at the store. In March, things came to a head, and he left. *That* was a stressful day at our house! However, God is wonderfully faithful, and two days after leaving the store, he had an interview with Warpath Corporation and had a better job than he had left. It is always amazing how things fall into place when it's God's timing. One of the great things about his job ~ besides the fact that they really appreciate him ~ is that they are very supportive of family and the kids in the community and they were more than happy to let him arrange his schedule in the fall so that he could continue to coach Middle School Football.
Well, that's pretty much our year. One full of difficulties and blessings, but mostly blessings. Time and again we have witnessed God's faithfulness to us as a family, and I am continually in awe of His great love for us. May you be blessed as you reflect on the many blessings in your own life, knowing that He loved you enough to send His one and only son to die on a cross so that you could have eternal life.